UK Drive: V60 T8 Polestar Engineered
What is it?
When you think of a Volvo estate car, what comes to mind? Probably a big, boxy yet comfortable wagon with plenty of space inside and without the merest hint of sporting intent? For the most part you'd be on the money, but with the V60 T8 Polestar Engineered, Volvo wants you to think of it a little differently.
It's got a load of performance-enhancing features, as well as some styling touches unique to the model. We've been behind the wheel to see what it's like.
---
What's new?
The Polestar Engineered uses the regular T8's petrol electric hybrid powertrain – but we'll get to that in a little more depth later on. Elsewhere, you've got some other noticeable tweaks; there's adjustable Ohlins suspension all around, and beefed-up Brembo brake calipers for improved stopping power.
The overall look of the car has been given some added muscle too, while inside there are a couple of go-faster modifications. This is a car fettled by Polestar – the performance company which recently went out as a standalone brand from Volvo – which means it's been thoroughly looked at to give it more of an edge than a regular V60.
---
What's under the bonnet?
The V60 T8's powertrain is centred around a 2.0-litre four-cylinder turbocharged petrol engine, which is then linked to an electric motor and batteries. It pushes out a combined 399bhp and 430Nm of torque, enough to push the Volvo from 0-06mph in 4.4 seconds and onwards to a top speed of 155mph. Because it's a hybrid, the T8 can return up to 104.5mpg combined while emitting just 48g/km CO2. You can charge it up from the plug, and when fully charged the V60 will manage up to 27 miles of electric-only driving.
It's a powertrain which does well to deliver the best of both worlds. On the one hand, it's punchy and delivers plenty of performance while meanwhile returning excellent fuel economy and low emissions. Who said you couldn't have your cake and eat it?
---
What's it like to drive?
That new suspension setup makes a noticeable impression from the off. It's considerably firmer than the regular V60's, jolting the cabin occasionally as you go over larger imperfections in the road. Once you're up to speed, however, the change makes sense; body roll is well managed and there's little slack in the setup when cornering.
The steering doesn't have an awful lot of feel, but it's accurate enough to place the car properly with little worry. The brakes, meanwhile, are a big standout feature. They provide a huge amount of stopping power and really do elevate the overall driving experience. If there was any feature of the Polestar Engineered that we'd transfer to the standard V60, it's the brakes.
---
How does it look?
The exterior of the V60 Polestar Engineered is a great showcase of how to translate performance into design with resorting to overly shouty methods. There are no wings, no huge splitters nor 'look-at-me' decals, just subtle touches which show you that this isn't an ordinary V60. The gold brake calipers are a noticeable touch, sat behind intricately-designed alloy wheels. The front air intakes have been restyled, and there are small Polestar badges at both front and rear.
It doesn't represent a huge leap in terms of design over the regular V60, but it's just enough to make it look and feel special.
---
What's it like inside?
If you excluded the gold seatbelts, you'd be hard-pressed to tell the interior of the Polestar Engineered from the regular V60. We're not complaining about this, however, as the V60's interior is one of the best in the business thanks to great ergonomics and plenty of high-end materials. The seats feel a touch more bolstered than usual, but they're far from uncomfortable as a result.
There's plenty of space for those sat up front, while those in the back are just as well suited for space. Plus, because it's an estate, there's 529 litres of boot space to use, rising to 1,441 litres when you fold the rear seats flat. The boot shape itself is quite square too, so it's ideal for loading larger items into.
---
What's the spec like?
When it comes to specifications, the vast majority of the V60's upgrades are mechanical. So while Ohlins suspension and Brembo brakes may sound good to some, keen button-pressers are going to be left wanting if they're looking for added tech over the standard Volvo. That said, there are plenty of features to look at, with the large smartphone-style infotainment system dominating the centre of the cabin. It's easy to use and features smartphone integration tech too, as well as standard Bluetooth and satellite navigation systems.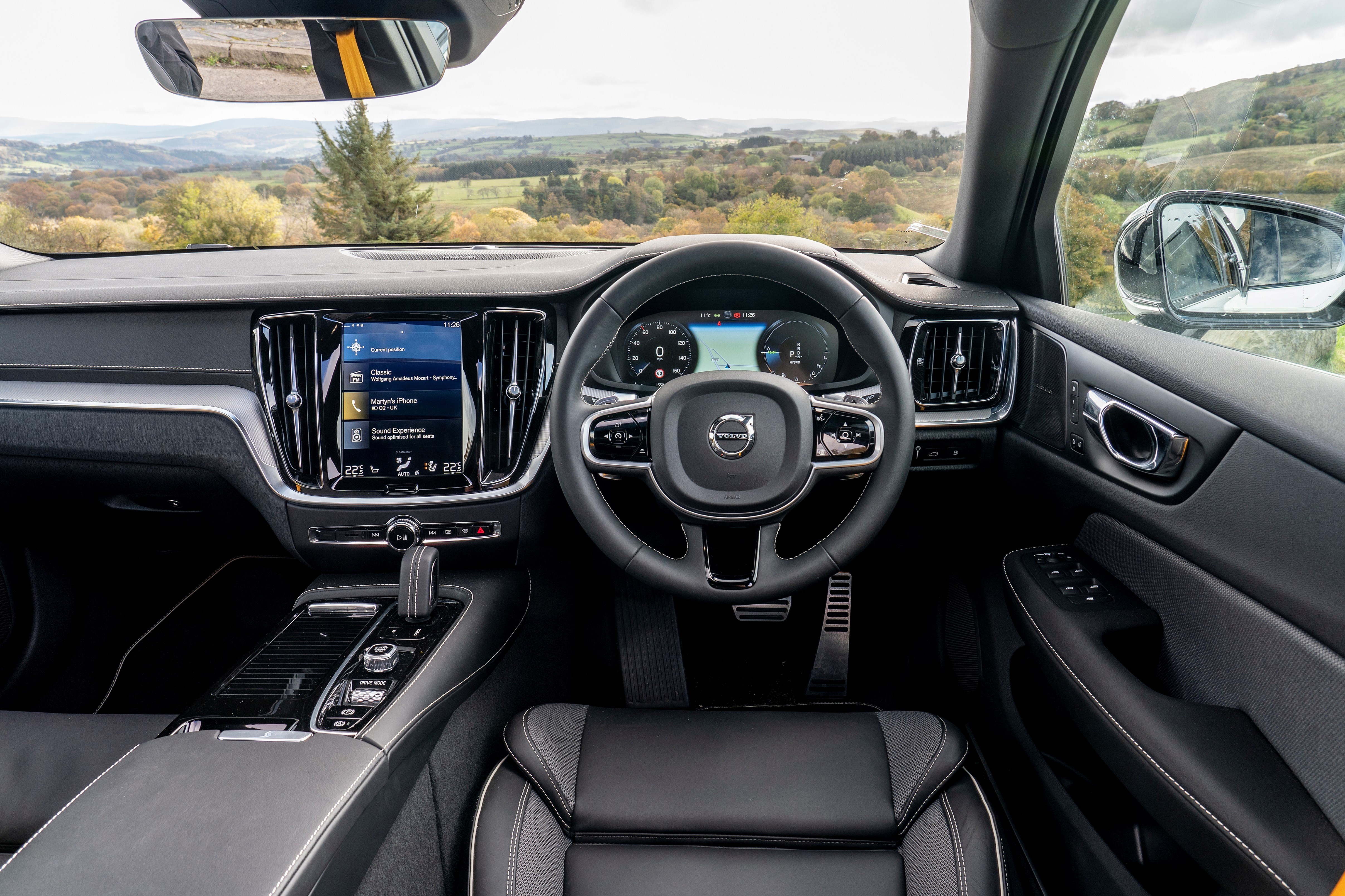 It's worth pointing out that this version of the V60 starts from £57,000, meaning it's far higher in price than other V60s – but those mechanical upgrades do come at a cost. But if you're looking for a performance estate car with a bit of undercover appeal, then it's a small price to pay.
---
Verdict
It might not be a car which resonates quite as strongly with petrolheads as other performance estate cars, but you can't fault the V60 Polestar Engineered for its effectiveness. It's fast, exciting and – thanks to that hybrid powertrain – efficient, too. It may not be as the most exciting of options, particularly when put against rivals like the Audi S4 Avant or Mercedes-AMG C43 estate, but for a car which will put a smile on your face without leaving you at the fuel station too often, then it's hard to beat.
---
Model as tested: Volvo T8 Polestar Engineered
Price as tested: £61,400
Engine: 2.0-litre petrol with electric motor
Power: 399bhp
Torque (Nm): 430Nm
Max speed (mph): 155
0-60mph: 4.4
MPG: 104.5
Emissions (g/km): 48