What is it?
Though Toyota may now be very much catering to the enthusiastic driver with the recent return of the legendary Supra and upcoming arrival of the no-holds-barred GR Yaris, it wasn't all that long ago the firm was simply pumping out a number of emotionless vehicles.
That began to change a little in 2012 however with the GT86. This was a lightweight, rear-driven, driver-focused sports car from a firm that was mostly known at the time for focusing on electrification, autonomy and anything to make the definition of car match that of appliance.
When it was introduced, the GT86 was much revered — but has it stood the test of time? We're getting behind the wheel to find that out…
---
What's new?
Save for a mid-life refresh in 2016 that brought a little bit more equipment and tweaked looks, there has been no major changes to the core GT86 experience since it first arrived on the market. That means power remains (for better or worse) and 197bhp, and that not-quite-spartan-but-almost-there approach remains.
More specifically here, we're driving the GT86 in Club Series Blue Edition guise with the optional performance pack. Over the standard car, that means this particular example is packing Sachs dampers, Brembo brakes, unique alloy wheels and that blue paint finish the name hints at.
---
What's under the bonnet?
As touched on, the ever-present 2.0-litre four-cylinder boxer engine remains here. It continues to produce 197bhp and 205Nm, sent to the rear axle through a six-speed manual gearbox (an automatic option is available, but honestly don't bother), resulting in a 0-60mph time of 7.6 seconds before the GT86 hits a 140mph top speed.
As is perhaps to be expected, efficiency figures aren't exactly scintillating — Toyota claims 32.8mpg and 196g/km of CO2 emissions — though we suspect that's not going to be too much of a concern for a typical GT86 buyer.
Though on the face of things it would be easy to call for more power from the Japanese sports car, but its real issue lies in a low-range torque dip. This makes the engine feel rather lackluster at first, though once it gets beyond 5,000rpm it really comes to life and suits the character of the Toyota GT86.
---
What's it like to drive?
One thing that has remained consistent with the Toyota GT86 is just how well it takes on a road. Its chassis continues to be one that's incredible composed, while offering feedback to a level that you can even feel movement through your backside.
Get it up to its ragged edge, and there's plenty enough grip to make the most of a tantalising back road. With its standard-fit Michelin Primacy tyres though, it's keen to bite hard if you don't remain switched on while driving it.
This performance-focused nature does have an expected detrimental effect on its everyday ability, though. Its heavy steering makes town driving rather hard work — not aided by frankly poor visibility — while a harsh ride and dull engine note when sat at a cruise means refinement is well off the pace of most cars at its pricepoint.
---
How does it look?
As the name suggests, the Toyota GT86 Club Series Blue Edition (have fun telling people what you drive at parties) is incredibly blue. It's certainly not a colour that will struggle to catch attention and is offset nicely by black-painted mirror caps, rear wing and 16-inch alloy wheels.
It's a colour scheme that builds well on the car's altered looks from its 2015 refresh, and looks race car-like on the road. With the optional performance pack on board, red Brembo calipers heighten that sense too.
---
What's it like inside?
If the Toyota GT86 is something of an exciting throwback in driving dynamics and approach to design that Japanese manufacturers were taking in the '90s and '00s to affordable sports coupe, it does have an area similar to those it could do without — its interior.
It's not a horrible place to be, and the GT86 does have one up on the all-but-badge identical Subaru BRZ in terms of a few leather trimmings, but premium it is not. Tacky-looking buttons and plastics are present throughout, while dials and gauges look like they've been ripped from a PlayStation 2 racing game.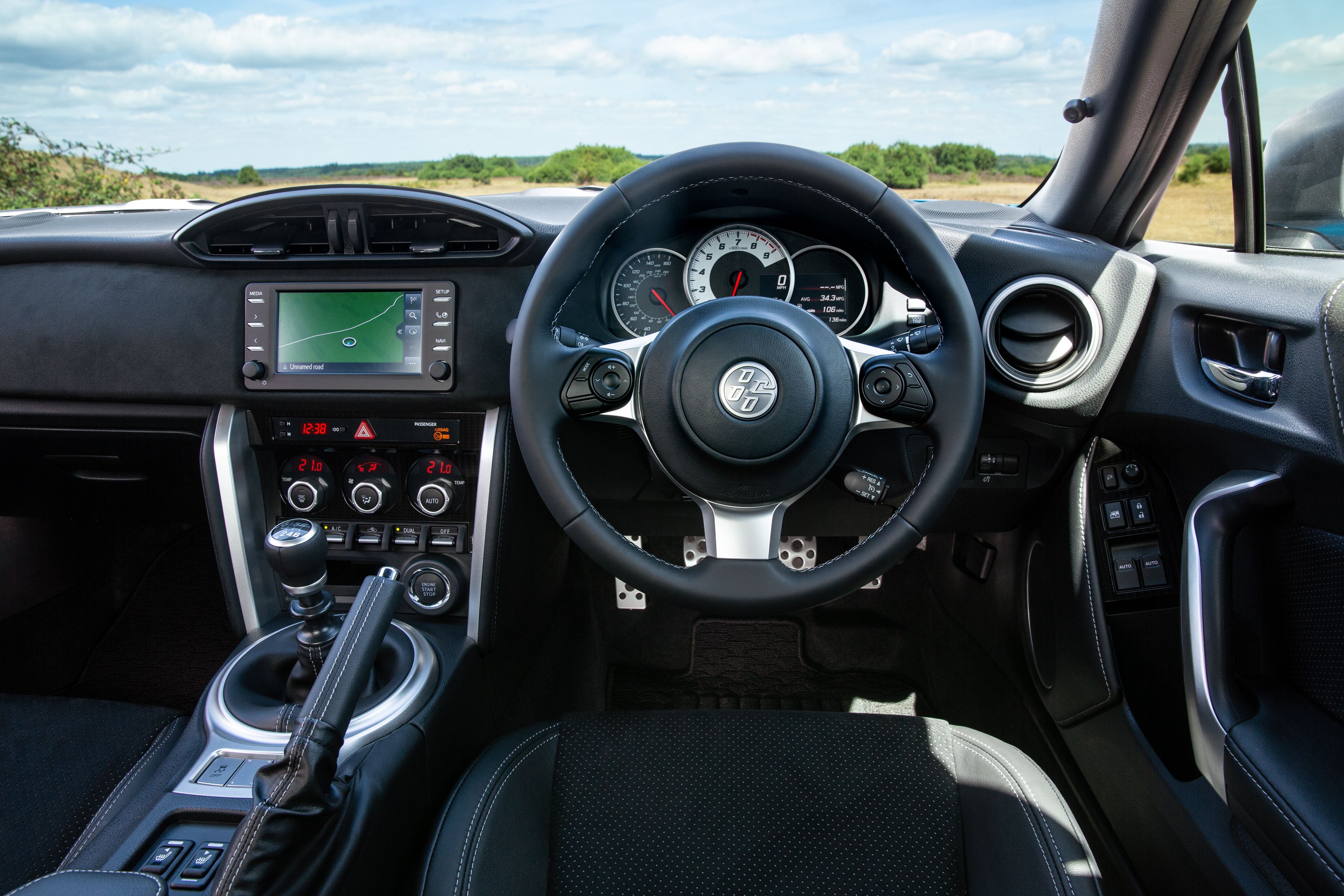 If you're packing for two, there's a good amount of space in the GT86 with a respectable 391 litres of capacity. There is a rear row of seats, but these are best reserved for shopping bags or being ripped out entirely in favour of weight saving.
---
What's the spec like?
Sitting at the top of the model's range, it's no surprise that the Club Series Blue Edition is fairly laden with kit. As standard, automatic LED lights, a reversing camera, rain-sensing wipers, cruise control, heated seats and Toyota's Touch 2 infotainment system are all included.
With the performance pack on board, the total cost of this particular GT86 weighs in at £30,985. That's a considerable premium over the car's standard £27,830 and puts it into the territory of the more powerful and everyday-usable Honda Civic Type R.
If it were our money, we'd look at a lower-spec GT86, delivering practically the same driving experience without that premium cost.
---
Verdict
As far as tweaking a proven formula goes, the Toyota GT86 Club Series Blue Edition does well. It hasn't altered how fun the car is to drive — a perfectly good thing in this case — and only serves to enhance the experience slightly.
With that in mind though, the extra cost proves hard to justify over buying a standard car and spending £30,000 on something that struggles as a daily driver is rather hard to justify even when you consider the performance credentials.
Though the Toyota GT86 is a solid alternative to a hot hatch if sheer fun is your thing, this particular version wouldn't be our pick of the bunch.
---
Model as tested: Toyota GT86 Club Series Blue Edition
Price: £30,985
Engine: 2.0-litre flat-four petrol
Power (bhp): 197
Torque (Nm): 140
Max speed (mph): 140
0-60mph: 7.6 seconds
MPG: 32.8
Emissions (g/km): 196g/km