What is it?
Think of an iconic 4x4, and where does your mind wander to? If we were to guess, it would be the all-conquering Land Rover Defender or the American brute that is the Jeep Wrangler.
Those two have something in common — pretty large in size, proven capability and a rich heritage behind them. There's a third car that can certainly match the two of those on those final points, if not the first, and that's the Suzuki Jimny.
Though cheerful and cutesy-looking, the Jimny has long proven it can keep with the best of them when the terrain gets rough —and now there's a new one. How does it stack up? We find out…
---
What's new?
Though taking on an all-new (albeit very retro-inspired) design, the Jimny retains the ethos of its predecessors — a back-to-basics interior, simple mechanics but with the goal of retaining its go-anywhere capabilities.
It still sits on a ladder chassis, an old-school mechanical four-wheel-drive system that doesn't rely on electronic support to take the car off-roading and still resists the temptation to go down the tech-laden route.
What is completely new though is its 1.5-litre naturally-aspirated engine, as well as a cabin that's said to offer more space than before. You'll even see an infotainment screen added on high-spec SZ5 grade, very modern.
---
What's under the bonnet?
Though its 1.5-litre engine may be all new, it doesn't take the Suzuki Jimny to some kind of new performance territory. Power is up from 84bhp in the old car to 100bhp, with a torque output of 130Nm, sent to all four wheels (though a selectable drivetrain allows two-wheel-drive if you fancy) through a five-speed manual gearbox.
Suzuki doesn't state an official 0-60mph time, though we can confirm it takes many seconds, and says it's capable of hitting a 90mph top speed. Fuel efficiency is quoted at 35.8mpg on the WLTP combined cycle with CO2 emissions weighing in at 154g/km.
This powertrain has a seriously old-school feel to it. It's very unrefined, the gearstick wobbles like crazy at an idle and you really have to keep the revs up to use all of the available power — but it suits the whole character of the car.
---
What's it like to drive?
We'll start with the bad. Looking objectively at the Jimny as a road-only car, it's pretty terrible in all honesty. Its steering is vague at best, the ride is all over the place, road noise comes at you from all angles and even the slightest of breezes will unsettle the whole thing.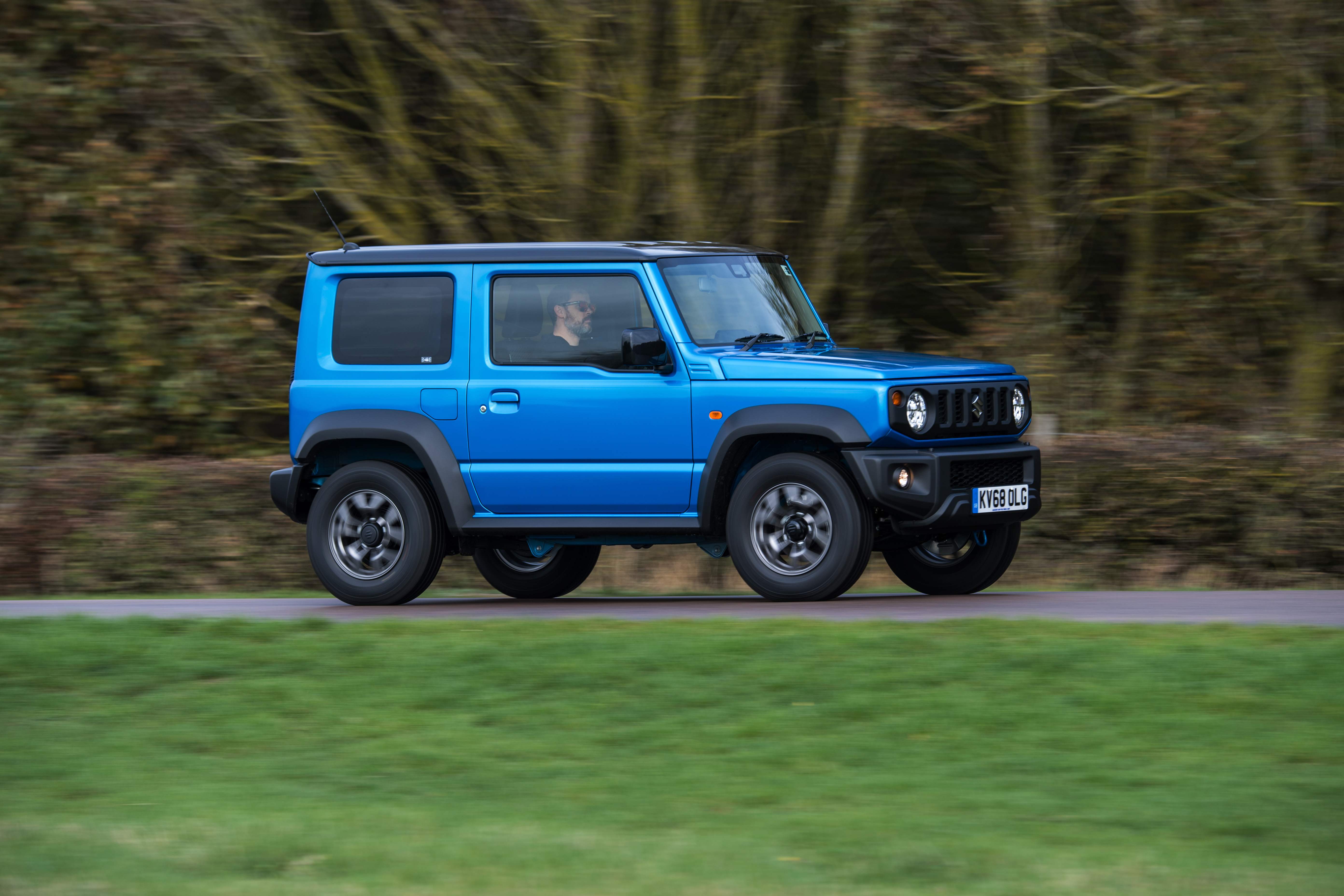 But nobody in the market for a Suzuki Jimny should be expecting a car that's exceptionally comfortable and borderline forgettable to drive. It's a laugh, an emotional buy, something to put a smile on your face everytime you get behind the wheel.
It also helps that it's supremely capable off-road. A brief greenlining run proved to be no problem for the little 4x4, with its four-wheel-drive system making effortless work of even the boggiest of terrains we encountered.
---
How does it look?
With this new version of the Jimny, Suzuki has decided to look back through its history books for inspiration. The boxy silhouette, cutesy face and low-set brake lights give it a remarkably similar look to the second-generation car introduced in the '80s (known as the Samurai in the UK) albeit with a more modern edge to it.
If turning heads and giving people a reason to chalk up a conversation with you is your thing, the Suzuki Jimny delivers on that. It looks incredibly distinctive and you'd be hard-pressed to find anyone with a bad word to say against it.
---
What's it like inside?
Much like the mechanics of the car, the cabin of the Jimny takes on a very spartan approach and puts robustness ahead of visual appeal. As a result, its seats are manually adjustable, cloth-laden units, the dashboard is boxy and plastic, plus the bodywork is pretty exposed too.
It's something to be expected of the Jimny, but it is an opportunity to reiterate that this is not a car for those expecting creature comforts and a plush experience. Space in the cabin is surprisingly good considering the compact dimensions of the car, though a measly 85 litre boot capacity means you should keep the rear seats empty if you plan to go for any kind of a shop.
---
What's the spec like?
Luxurious equipment on the Suzuki Jimny as standard includes DAB radio, hill hold and descent control, dual sensor brake support, daytime running lights, 15-inch alloy wheels, Bluetooth integration and a full-size spare wheel. All of that will set you back £16,249.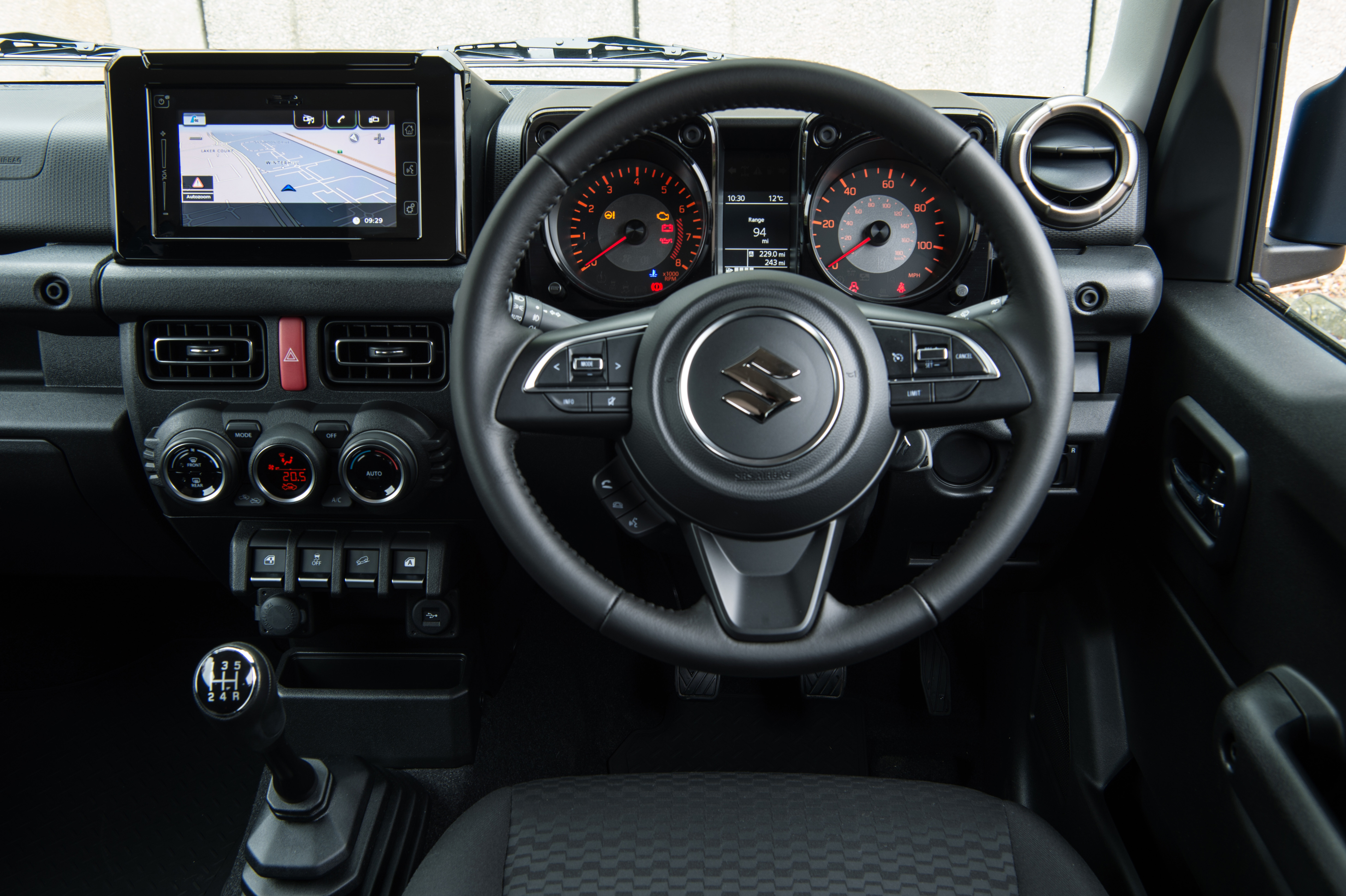 Move up to range-topping SZ5 grade like our test car and you'll see the addition of an infotainment system with support for Android Auto and Apple CarPlay, heated front seats, navigation and 15-inch alloy wheels. Throw in £650 dual tone paint like the 'Kinetic Yellow' here and the total cost weighs in at £19,399.
That money does buy a supremely capable machine, and Suzuki has managed to forego saturating the Jimny by throwing a plethora of unnecessary kit on to it.
---
Verdict
From a practical, objective standpoint, there's no sense in buying a Suzuki Jimny. Its road dynamics are poor, its short on space and efficiency is far from on its radar.
But in a world where cars seem to be moving further away from stirring up emotion, this Japanese 4x4 never fails to get your pulse racing and stick a smile on your face. Even if it feels like it's going to fall over on every corner.
For something that simply brings joy, this is a car to consider. Oh, and it's pretty mega off-road too.
---
Model as tested: Suzuki Jimny SZ5
Price: £19,399
Engine: 1.5-litre naturally-aspirated four-cylinder petrol
Power (bhp): 100
Torque (Nm): 130
Max speed (mph): 90
0-60mph: N/A
MPG: 35.8
Emissions (g/km): 154