UK Drive: Porsche's 911 returns as the all-conquering everyday sports car
What is it?
That's right, this is the all-new Porsche 911. And though this latest, 992-generation car may look a lot like the car it replaces, Porsche is adamant that this is, indeed, an all-new car.
So while the bug eye headlights and raked rear end may appear close in design to the older 991, underneath there have been some hefty changes to ensure that the 911 remains top dog in the sports car segment.
Though we've already tested it abroad, this is the first time that we've got behind the wheel of the 911 here in the UK – so let's see how it gets on.
---
What's new?
As we've mentioned, the 992 may look just like the 911 it replaces, but there's far more going on here than meets the eye. Porsche has retuned the car's PASM adaptive dampers to ensure a better ride, the front track has been widened by 46mm and the rear by 39mm. The turbos on the 3.0-litre flat-six engine have been increased in size, while the car wears larger wheels at the rear – a trait we've only seen on GT-badged cars up until this point.
The cabin architecture has been extensively overhauled, and all throughout the car everything has been given an extensive nip and tuck. In short, this really is a new 911.
---
What's under the bonnet?
Sitting perilously close to the back of the car (as is tradition) sits a 3.0-litre turbocharged flat-six engine. Here, in Carrera S form – a base Carrera will be along shortly – it produces 444bhp and a reasonably large 530Nm of torque, driven to the rear wheels via Porsche's eight-speed PDK automatic gearbox. There's no manual for now, though this is likely to follow. A four-wheel-drive '4S' version is also available, for those who want a slightly more stable 911 experience.
Economy-wise, Porsche claims 31.7mpg combined, and emissions of 205g/km CO2. Respectable enough figures for the segment, and ones which undercut those offered by rivals.
---
What's it like to drive?
The older 911 was nothing short of sparkling to drive, and this latest 992 is no different. In fact, it's almost difficult to describe just how well-rounded this car is from behind the wheel. The steering, which is quicker than on the car it replaces, is beautifully weighted and direct, giving you an immense amount of confidence in placing the car. It's one of the standout features.
The engine, meanwhile, is flexible and punchy. Bearing in mind that this is close to being a 'base' 911, it's ferociously quick while the gear ratios (longer than on the previous car) give you an opportunity to enjoy it to its fullest. Though it may not sound quite as good as the old naturally-aspirated engines, it's still brimming with character.
Suspension-wise it's firm around town, but at speed it's masterfully compliant, limiting roll and gliding over imperfections in the road. Traction is excellent too, to the point where you question the need for an all-wheel-drive version. During our testing, the weather was dry and warm, we'd like to add.
---
How does it look?
The 992 is a 911 in the way it looks, pure and simple. However, there have been some neat changes to update its appearance. The rear end, for instance, now gets a full-width brake light sat underneath a large electronically-controlled spoiler. The door handles now pop out when you unlock the car too, and the lettering at the back has been finished in a retro-style font.
The profile silhouette is just what you'd want from a 911, and the front end's larger air intakes and redesigned headlights only aid the overall package.
---
What's it like inside?
Big central rev counter in front of you, spot-on driving position and high-quality materials? Yes, it's business as usual for the new 911. A lot of criticism was sent towards the stubby gearlever when the car was first revealed, but in practice it feels pretty spot on with a solid, efficient action.
Our only real criticism is aimed at the screens either side of the driver's main binnacle. Though on the left you get time and temperature readouts and the right, satellite navigation, the steering wheel cuts both of these displays in half. It seems strange that Porsche went to the effort of fitting such high-definition screens, only for them to be obscured by the wheel.
---
What's the spec like?
The 911's list of standard equipment is as exhaustive as you'd expect from a car that starts at over £90,000. You get the full 10.9-inch widescreen infotainment setup with satellite navigation, media functions and Apple CarPlay. Those twin seven-inch TFT screens ahead of the driver are bundled in as standard, too. Features like cruise control and DAB radio are, as you'd think, included too.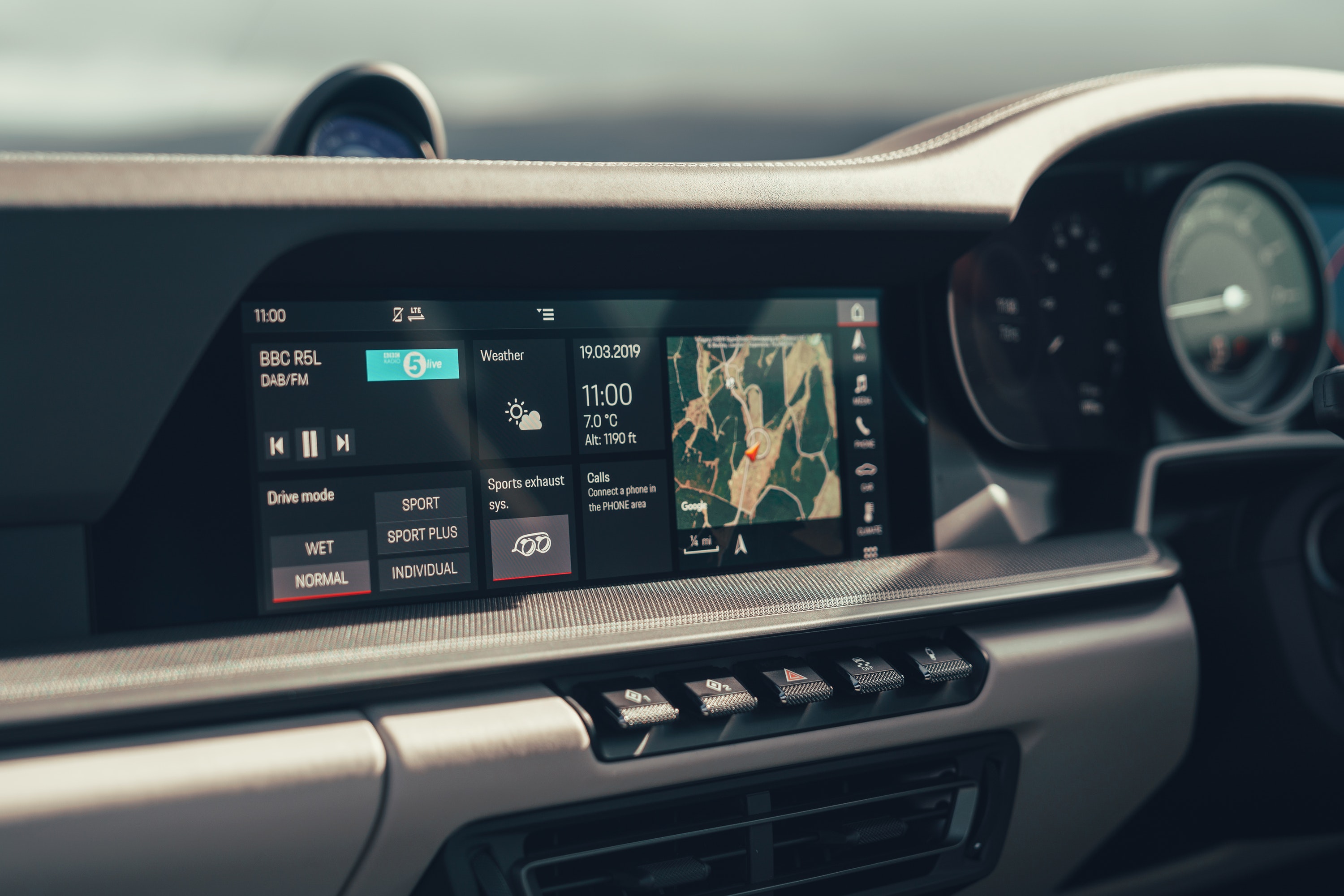 However, that's not to say you can't go a bid mad with the options, either. Our car came with a full Bose sound system (£1,002), front and rear parking sensors and a reversing camera (£1,196) and upgraded LED headlights with matrix beams (£2,054). In all, our test car came to £109,187. Whichever way you cut it, that's a lot of money – even for a 911.
---
Verdict
The latest generation 911 is a superbly well-rounded proposition. It moves things on from the 992 car just enough to keep things interesting, without losing the quintessential Porsche essence. It's capable, exciting to drive and – even in this Carrera S model – very fast indeed.
As a sports car to drive every day, it fits the bill impressively well. It's almost hard to find fault in this car, which is just what you expect from Porsche.
---
Facts at a glance
Model: Porsche 911 Carrera S
Price: £109,187
Engine: 3.0-litre turbocharged flat-six
Power (bhp): 444
Torque (Nm): 530
Max speed (mph): 191
0-60mph: 3.2 seconds
MPG: 31.7
Emissions (g/km): 205