What is it?
There are few cars quite as iconic as the Mini Hatch. Reborn under BMW's ownership, the Mini has only gone from strength to strength and even decades after first appearing on our roads is still a consistent sight in the monthly list of best-selling vehicles.
Seemingly immune to the rising popularity of SUVs and crossovers, the Mini Hatch remains a great option for a great many people. We're going to see just what's going on underneath the skin.
What's new?
This current-generation Mini has been on the roads since 2014, though it was given a light refresh in 2021. The revisions are pretty sparse, in truth, with a new-look front end introduced alongside a more thorough use of gloss black detailing.
Inside, there's some upgraded technology including a now-standard 8.8-inch touchscreen which was previously only found in the optional extras menu, while more extensive interior lighting gives great scope for personalisation than before.
What's under the bonnet?
Mini has operated the same basic naming structure for a long time now, so many people are quite up to speed with it. You've got One, Cooper, Cooper S and John Cooper Works models available, bringing power from 101 bhp right the way up to 228 bhp in the range-topping JCW models.
We're focusing on the Cooper S model here, which uses a 2.0-litre turbocharged petrol engine with 176bhp and 280 Nm of torque, driven through a six-speed manual gearbox - though an auto version is available should you rather. Mini states that it can go from 0-60mph in 6.5 seconds and onwards to a top speed of 146 mph, though despite this performance it should still achieve over 40 mpg combined.
What's it like to drive?
Mini has always concentrated on making its Hatch as enjoyable and fun to drive and this attitude has definitely been preserved for the latest version. It's a joy to drive - particularly down country lanes - where its nimble handling and zippy acceleration shine through. The suspension can feel a little firm at times, but more often than not this only contributes to that involving feel.
Some versions get adaptive suspension as standard, too, which allows you to adjust the ride depending on the situation or your driving style. This does help to alleviate some of that firmness, too.
How does it look?
The look of the Mini Hatch has remained largely unchanged for a long time now but, given its popularity, you can understand why Mini wouldn't be too keen on changing it drastically. The front end is where you'll notice the main changes that come with this update, The grille is larger, while the front position lights have been replaced by new vertical slats.
'Our' Sport-specification car benefits from a full John Cooper Works bodykit, too, which adds a cool rear diffuser and more intricate alloy wheels. As always with Mini, you've got loads of colours to choose from to help make the car really 'yours'.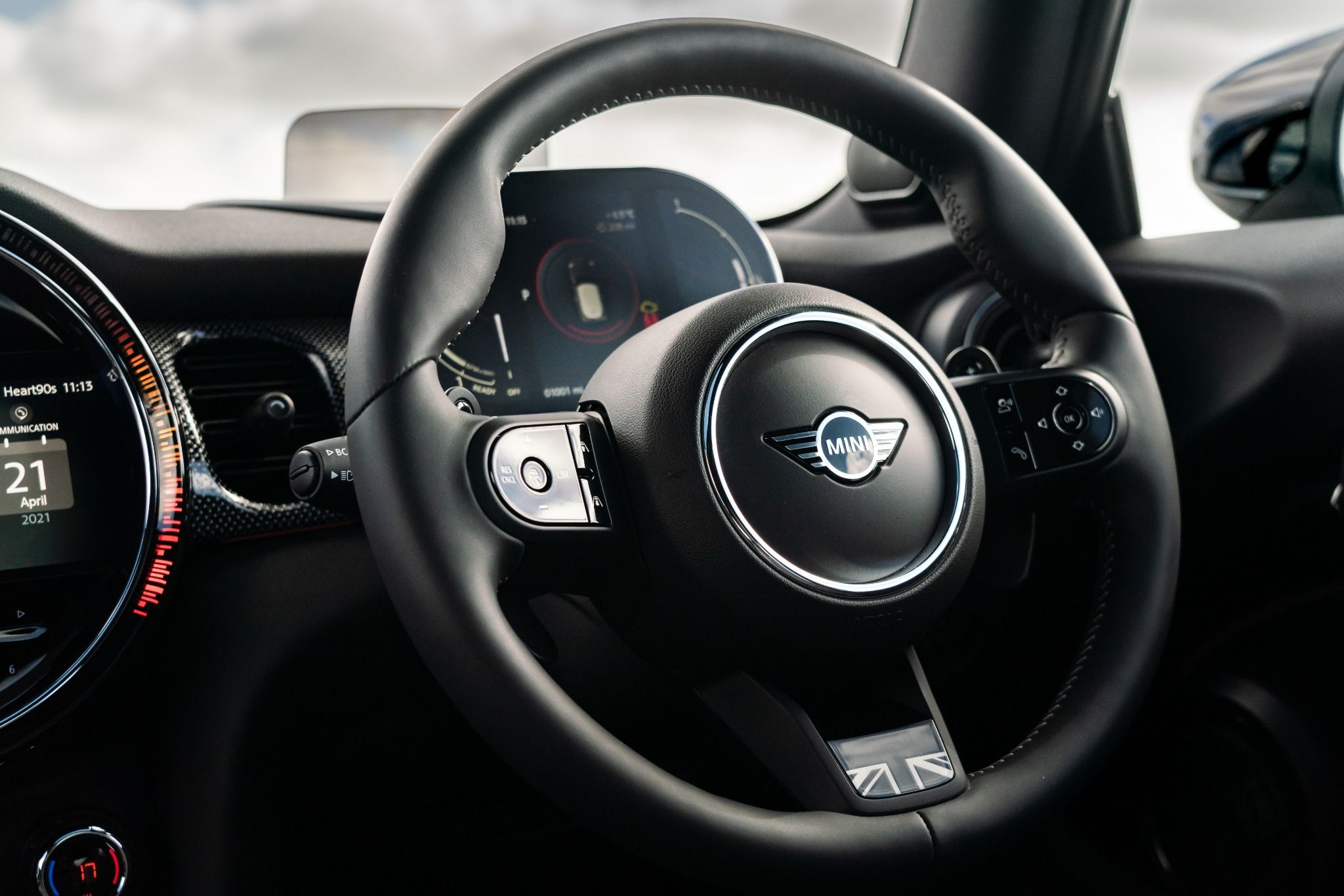 What's it like inside?
You might remember that when the original 'new' Mini arrived it famously had its huge speedo located in the central binnacle - just as it did on the classic. The days of this feature are gone, however, with that space now taken up by a large infotainment display which can be controlled by both touch and a rotary control lower down.
Elsewhere in the cabin, the material quality is excellent - as is the general fit-and-finish - though three-door versions are, as you'd expect, quite tight both in terms of rear-seat legroom and boot area.
What's the spec like?
You've got three specifications to choose from with the Mini - Classic, Sport and Exclusive. Classics ride on 15-inch wheels and also get full LED lighting, air conditioning and automatic lights and wipers. That full touchscreen comes as standard, too.
Sport, as you might expect, brings more dynamic touches through that John Cooper Works styling kit, alongside 17-inch alloy wheels and Alcantara-trimmed sport seats. Finally, Exclusive adds luxury features such as eye-catching 18-inch alloy wheels, silver detailing and a full leather interior.
Verdict
Despite its longstanding position in the car market, the Mini Hatch remains just as good fun as ever. It's well made, great to look and - most importantly - superb to drive, while recent updates have only helped to sweeten the deal through more standard equipment and a slightly upgraded look.
Sure, there are more spacious alternatives out there, but if you're after a hatchback with boatloads of character, the Mini remains one of the best about.
Browse our current Mini Hatch stock