First Drive - BMW 1 Series
What is it?
Since it was introduced back in 2004, the BMW 1 Series has been one of the UK's most popular models. Replacing the 3 Series Compact, it became a premium hatchback choice to compete against the likes of the Mercedes A-Class and Audi A3.
But this new version of the 1 Series brings one major change above all — it's now front-wheel drive. The German brand says that won't make much difference to the average 1 Series driver — but will it change the hatchback's character? We find out…
---
What's new?
BMW has always profited off the its mantra that rear-wheel drive is best — so this change is quite important. But the firm claims that this switch will improve interior space and make the boot larger — all while keeping the same driving experience as before.
The new 1 Series also comes with a fleet of new technologies — which complement this iteration's new design. With driver assists and improved infotainment systems, drivers won't be shortchanged in this model.
---
What's under the bonnet?
For our test car, we tried the 118d spec. This uses a 2.0-litre four-cylinder diesel engine and is paired to a seven-speed automatic transmission sending the power to the front wheels. With this unit, drivers get 148bhp and 350Nm of torque on tap — meaning the 1er can get from 0-60mph in 8.2 seconds and reach a top speed of 135mph.
Although diesel is falling out of fashion, the engines still have their positives. Those include efficiency, and the 118d can achieve 60.1mpg and CO2 emissions of 108g/km — figures that aren't to be sniffed at.
---
What's it like to drive?
Power delivery may have changed in this 1 Series, but those behind the wheel haven't — with most 1 Series drivers believing their car was front-wheel drive anyway. So it's no surprise for most that this 1 Series feels just like the previous versions — composed and simple to drive.
Admittedly, when you push it, understeer starts to kick in — as you'd expect from a front-wheel drive car. But for all other driving, this remains a well-refined and perfectly pleasant motor. The steering isn't overly weighted for faux-sportiness and the gearbox is smooth — although it can be a bit sluggish off the line.
---
How does it look?
At first, we weren't sold on how the new 1er looked. Its new lines made it look a bit like a small crossover and too close to the X2 — but after seeing it in the metal, it isn't as bad as we feared. It just isn't as dynamic-looking as its predecessors.
It also carries BMW's now-standard oversized kidney grille, while the Sport model adds additional sharp edges and larger alloy wheels. The white paintwork on our test car doesn't help the model stand out, so we'd go for a bolder colour.
---
What's it like inside?
With the new drivetrain layout, the interior was able to stretch out a little. That means getting behind the wheel is a much airier affair — with plenty of light coming into the cabin through the large front and side windows. The quality of the materials used is also excellent — with all the surfaces feeling soft to the touch.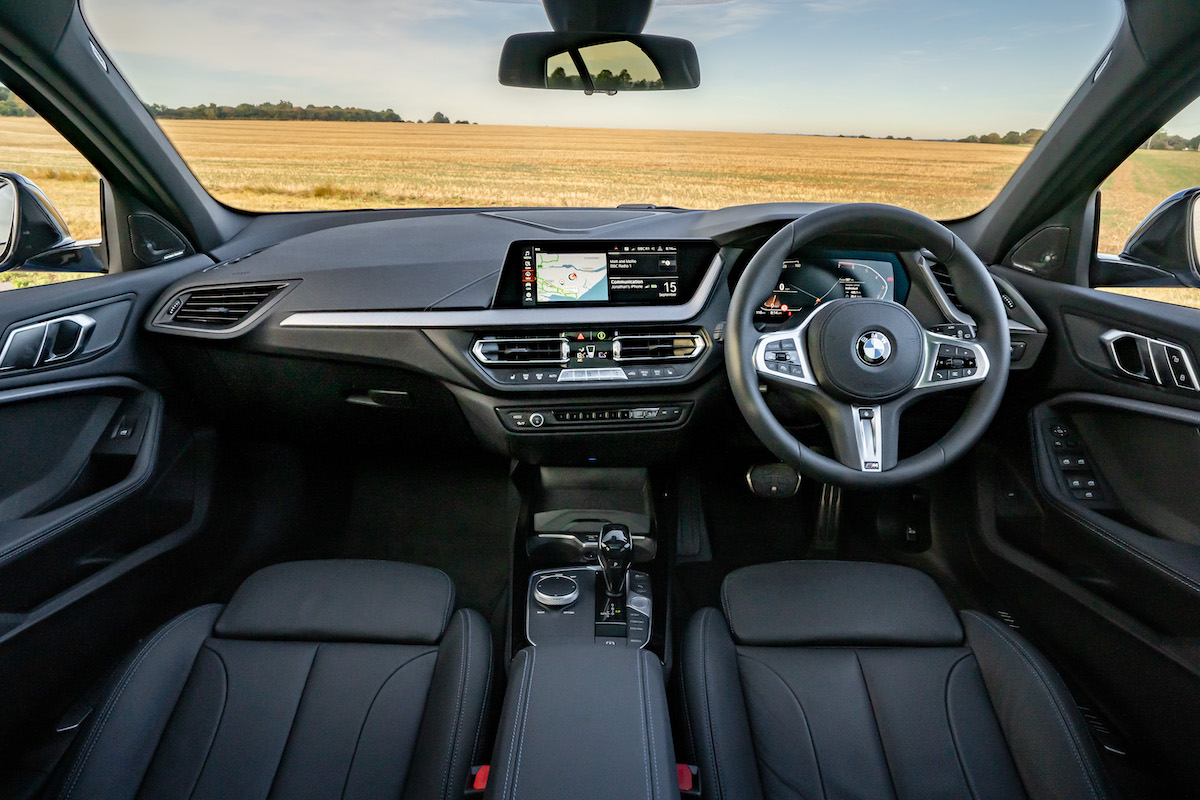 That feeling of spaciousness continues into the back, with excellent leg and knee room on offer. However, the sloping roofline means headroom for most isn't that great at all — with the tallest passengers likely to be touching the roof.
Storage space though is up — by 20 litres, in fact. The 320-litre boot can be extended to 1,200 litres by folding the rear seats — with access made simpler by the culling of the three-door option in favour of five-door options across the board.
---
What's the spec like?
BMW knows who it's marketing its cars at — drivers who want and demand plenty of tech. And the 1 Series doesn't disappoint. It comes with most of the features you'd find on more premium BMWs, such as the full digital cockpit that includes a large infotainment screen and a head-up display. This gives the 1 Series a premium feel most hatchbacks can't offer.
The Sport model we tested came with 17-inch alloy wheels, sports seats, automatic two-zone climate control, full LED head and tail lights, front and rear parking sensors, lane departure warning and emergency autonomous braking. Cruise control with braking function and keyless start are also included.
---
Verdict
Despite the switch from rear- to front-wheel drive, the 1 Series doesn't lose any of the factors that made it a great hatchback in the first place. The change has meant interior space is improved — even though the car itself is smaller — and almost all drivers won't be able to tell the difference on the go.
It may not be as involving for keener motorists, but this new 1 Series is an improvement on its predecessor in all the areas that are important to hatchback owners.
---
Model: BMW 1 Series
Model as tested: 118d Sport
Price: £26,440
Engine: 2.0-litre four-cylinder diesel
Power: 148bhp
Torque (Nm): 350Nm
Max speed (mph): 135mph
0-60mph: 8.2 seconds
MPG: 60.1
Emissions (g/km): 108-111